Puppies cannot be held without a Non-refundable deposit. Deposits are $350 to be applied towards the full adoption fee.
I use Paypal and will send you an invoice with the PayPal fee added on. On $350 deposit, the fee is $12, making your invoice $362.
If you do not use PayPal at all, there is the option of sending a check for the deposit Only.
THE PUPPY APARTMENT FOR HOUSE TRAINING YOUR PUPPY- One bedroom/one bathroom!!!
EXERCISE PENS that I recommend on Ebay-
http://www.ebay.com/itm/Black-EliteField-Exercise-Pen-with-8-GROUND-ANCHORS-Crate-Cage-Kennel-5-Sizes-/130731538658
REMEMBER!!!! Puppies should NOT be put in a crate, xpen, or
any type of kennel with their
collars and/or tags on their collars. That is very dangerous. Dogs have
gotten their tags caught
and strangled themselves when not being monitored. Just remove the
collars before they spend
time in their closed areas. *****
http://www.ebay.com/itm/36-Gold-Pet-Dog-Cat-Play-Exercise-Pen-Fence-w-Case-4G-/280667232347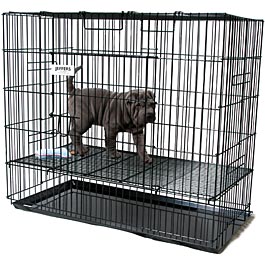 Puppy Playpens
Designed for raising puppies and are ideal for families that have to work and need to leave your puppy in a safe yet comfortable place while gone.
Playpens come in a variety of sizes / the ideal size for one puppy is the 36 x18
They have a top that opens which makes it easy to get to your puppy
and clean the crate.They also come with a gate which works great when converting the crate over to a standard crate when the time comes.
You can use Puppy Pads or News Paper in the pan on the bottom.
All of our puppies are raised in a playpen once they are weaned
so they are familiar with them when they leave.
We suggest that you still apply housebreaking methods when ever possible
but in the mean time these pens will make your life easier
when taking a new puppy home.
Jeffers® Puppy Pens
Precision Pet Products
Keeps Puppies Safe and Clean!
Whether transporting puppies, safeguarding them at shows, or even protecting furniture
from their sharp little teeth, puppy pens solve many needs.
?Hygienic Floors - Won't Pinch Paws
?Folds Flat for Easy Transportation and Storage
?Adjustable Elevated Floors Keep Away from Dirt & Mess
?Top and Side Doors for Easy Access
?Pans Slide Out for Easy Cleaning
?Coating: Chrome
DUE TO THE NEW LAW AND RULES AS OF NOVEMBER 2013 <> WE MUST NOW MEET W/ YOU TO GET YOUR PET PUPPY TO YOU. I can meet you either in vehicle, or at the airport or I can fly your puppy to you. I will do my best to get your puppy to you while complying with the new rules--whatever will work in getting you your baby!! CONTACT ME FOR MORE DETAILS.